Picture yourself walking down the aisle with a lovely bouquet in your hands,
pretty petals on the carpet and you are walking towards the most stunning flower arch you have ever seen.
Now questions are probably running through your mind, how do I pick the right flowers?
Do I go for colourful? Or just for calm colours?
It is not easy to find the best suitable bouquet and other floral decorations.
However, Fern Godfrey quoted:
'If there's one place at the moment that is ON FIRE when it comes to wedding styling, then that place is Spain.''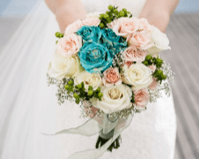 Luckily for you, we are located in Spain! (Canary Islands)
Our company offers florists who can make the perfect bouquet regarding your needs and wants.
Most common used flowers for weddings are Roses, Hydrangeas and Gardenias.
Gardenias are amazing to be used as a floral headpiece.
Now what do you think of a botanical theme?!
We offer some botanical gardens as wedding venues in which it looks amazing to have colourful flowers.
The mix of elegence & wilderness, traditional & modern is close to perfect!
Keep in mind the colour of your dress when you decide on a theme.
If your dress is white, its most likely to go for some colours.
But is your dress coloured, then think of white flowers or you can go for the same colour but then darker or lighter.
Many couples go for a white flower theme, because white symbolizes purity.
But where do you start? Right here:
Of course white Roses will fit in every bouquet or arch but think also about these pretty flowers;
Star of Bethlehem, Stephanotis, Oriental Hybrid Lily, Narcissus Paper White and Phalaenopsis Orchid.

Have a look at this classic sweet arch! Pretty pink flowers will fit right in any wedding!
Would you like to have a pink themed wedding?
Think of pink Roses, pink Ranunculuses, Sweet peas, Peonies and pink Gerberas.

This picture is taken at one of our amazing venues called Pearl.
Check all of our venues out on the website: http://perfectweddingcompany.com/en/wedding-venues/

Who wouldn't love to have their wedding here!