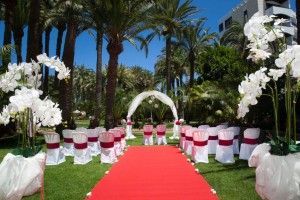 If you are looking for wedding venue with stunning surroundings, look no further! This fantastic venue is located in Maspalomas, South of the island.
The venue is a 5 star hotel, so you will be sure to receive excellent service. Diamond is the perfect venue for the ones dreaming of an intimate wedding with the closest friends and family as they offer weddings held for up to 30 people.
The ceremony and the welcome cocktail will be held outside surrounded by beautiful gardens. Imagine saying yes to the one you love under the clear blue sky with a spectacular view in the background.
Contact us for more details and let us help you discover if this is the right wedding venue for you!