Picture yourself walking down the grand staircase at this exquisite 5 stars hotel as the train of your dress trails behind stroking the stone stairs.
There's no grander an entrance that a bride could make that will create an everlasting image in the mind of her husband to be and all her family and friends.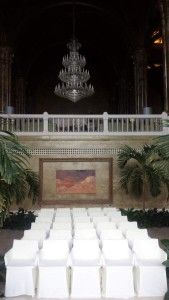 The light shining through the floor to ceiling windows caressing the grand piano and dancing off the hotels majestic chandelier, as you say those beautiful words of commitment to one another make this ceremony setting one of Gran Canarias favourite wedding venues.
Let the grand terrace overlooking the plaza host your welcome cocktail and wedding dinner as you enjoy the innovative cuisine designed by the hotels unrivalled chefs.
Then dance the night away till 05.00h in the hotels stylish adjacent discoteque. Suitable for intimate or large gatherings, the hotel's elegant environment makes a perfect setting for all Weddings, Blessings and Renewal of Vows ceremonies and celebrations.
Offering a wide range of accommodation possibilities for you and your guests, this 5 Star hotel ensures a memorable holiday with your loved ones, where your every whim will be attended to by their professional and friendly staff.
Give us a call or contact us for more information and let us help you discover more about this amazing venue.