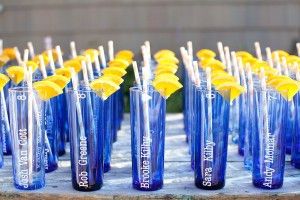 A table plan is one of those thing that are only essential at a wedding if you think they are!
And the great thing about that is that you get to choose exactly how they should look! Here's your chance to become very creative. Some people choose a classic design which style and color fits the ones of the wedding, however some choose to go another way, like the images to the right where the drinking glass tells the guests which table their are at!
Let your creative side bloom and make an unique table plan that fits your personality!