NON DENOMINATION BLESSING

As the Spanish law does not permit non residents of Spain (including the Canary Islands) to marry here in a
legal civil ceremony
, both religious blessing ceremonies and
non denomination ceremonies
 are extremely popular in Gran Canaria.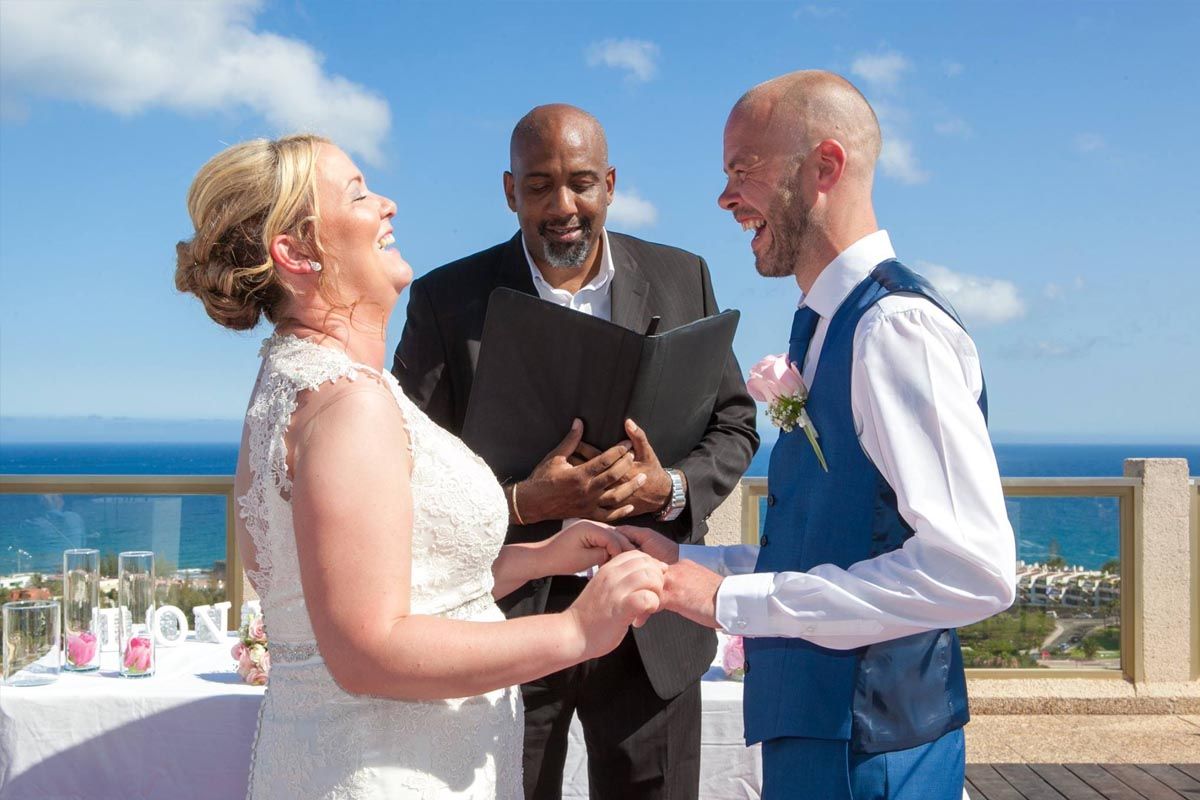 What is a non denomination Ceremony?
A non denomination ceremony is similar in format to  a civil ceremony.  It's a beautiful, romantic and meaningful ceremony that suits all, regardless of your religious or non religious preference.
Unlike the legal aspect of the marriage itself, a non denomination ceremony is not legally binding – its a way of publicly symbolizing your commitment to one another.
The ceremony is exactly the same as a legal civil marriage ceremony with the exchanging of the rings, vows, first kiss and signing of the certificate.  The only difference between this and a legal civil ceremony, is that you are not required to sign any legal paperwork here in Gran Canaria, letting you sit back, relax and enjoy your precious holiday time.
A non denomination ceremony can take place before or after the legal civil ceremony. Most people decide to do this at their local town hall or registry office in their home country.
There are no religious elements included in a non denomination ceremony unless you request otherwise.
You can adapt the vows however you wish and can even write your own.
We have non denomination celebrants who speak English, Spanish, Italian, German, Swedish, Norwegian, French and Russian.
Any style of music can be chosen for the ceremony, enabling you to create an atmosphere that suits your style and personalities.
Although you are not legally marrying the day of the ceremony, most couples view the don denomination blessing ceremony as their 'actual wedding', as this is the moment they express their love and commitment to one another in front of their family and friends.
Why choose a non denomination ceremony?
If you are not religious in any way – A non denomination ceremony is a beautiful and meaningful ceremony.  As it generally has no religious connotations included in the ceremony, it is perfect for couples who are not particulary religious or who don't want to have a traditional religious ceremony.
If you are religious – You can add religious aspects of your choice into the non denomination ceremony, to suit your religion, along with prayers and hymms, making it a perfect choice for any religion or faith.
If you are Catholic and previously divorced from a marriage within the Catholic Church – As it is not permitted to re-marry in the Catholic church and your are unable to hold a religious blessing, divorcees often choose to have a civil ceremony in a register office, followed by a romantic non denomination ceremony in a venue of their choice.
Couples from mixed religions or faiths – As it is a neutral ceremony without any mention of any particular faith, it suits all religions without favoring one over the other. Nevertheless, should you want to inject parts of your religion into the ceremony, this is also possible. By doing this, you are reaching a compromise and each persons religion is covered in equal parts, covering the most important religious elements of your wedding ceremony.
Choosing a non denomination blessing ceremony allows you the complete freedom to plan and create your special day exactly as you've always imagined.
Having your non denomination ceremony in Gran Canaria gives you the utmost flexibility as the whole ceremony can be tailored to suit your requirements.
Contact us for a free consultation!
You simply have to leave your contact details and we will get back to you within 24 hours.
Whichever option you choose, we can create your perfect wedding – flexibility is our key word! Tell us your dreams and let us make them a reality!

Religious marriage Blessings
Non denomination blessings
Catholic Marriage Ceremony
SJØMANNSKIRKEN – NORSKE KIRKE
LGTBIQ wedding ceremonies
It's Going to be Perfect!
Let's Plan Your Big Day!