Imagine exchanging your vows looking out to the brilliant white sand of Amadores Beach and the crystal blue Atlantic Ocean from this spectacular hotel.
Then sip champagne on the very same terrace while enjoying exquisite canapés created by the hotels a la carte Kaia restaurant. This venue is one of our most popular wedding hotels.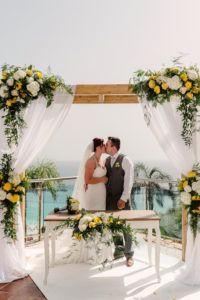 Suitable for small intimate wedding blessings & renewal of vows or larger affairs, this 5 star hotel offers high quality service and cuisine that will have your guests talking about your wedding for years to come.
Their salon de eventos can host celebration dinners and evening parties of up to 350 people and the floor to ceiling windows ensure that you get the maximum amount of time enjoying the magnificent views and the outstanding sunset.
This 5 star hotel offers high quality accommodation and board options, with factilitie to suit both couples and families. Enjoy free daily entrance into their spa or the pool side playground for families with children.
Find out more about this great venue by giving us a call or contact us and let us help you discover if this is the perfect venue for your special day.