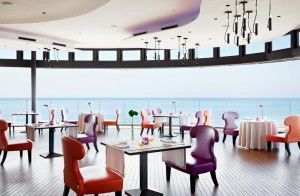 This exquisite boutique hotel is a member of the leading hotels in the world. Located in Playa del Ingles, close to the Yumbo Centre, this hotel is the jewel in the crown for same sex blessings.
This cutting edge design hotel boasts a high level of modern technology for it's guests to enjoy along with it's rooftop chill out area and hidden enclaves ensure a variety of options for your ceremony, welcome cocktail and celebrations.
Their private dining area with floor to ceiling windows, enables you and your wedding party to enjoy the spectacular views across the world famous Sand Dunes Nature Reserve.
The hotels luxurious spa is a definite must to get you prepared for your special day offering relaxations and beauty treatments along with high level hair and makeup styling.
This 5 star hotel has an amazing rooftop Chill Out Area where you can enjoy the most exquisite cocktails on the island. If you are looking for an adults-only celebration in a unique and elegant setting this is the hotel for you.
Contact us to find out more information on this resort and will help you see if this it the perfect venue for you!